A few days ago, an Indian American politician Suhas Subramanyam, tweeted
I am honored to have been sworn in as a member of the Virginia House of Delegates on the Bhagavad Gita. Thank you to my wife, family, friends, and all my supporters for sharing this special day with us at the Virginia State Capitol. The work has just begun. pic.twitter.com/EJZYiCvGr5

— Suhas Subramanyam (@SuhasforVA) January 12, 2020
Subramanyam, who explains how his name is pronounced ('Soo-braw-MAN-yum') is a representative from District 87 in Virginia's General Assembly. In a recent interview, he explains "Why was it important to tweet about being Hindu, Indian American"
I thought it was important to embrace it. I also want others running for office here or in other areas to not feel that they have to downplay or hide it. My constituency has Hindus and people are exposed to the faith, but it is also a diverse, smart and open-minded community. It is very inclusive, especially in recent years. While campaigning, too, I went to temples and did namaskar, but I also went to churches and mosques. Hinduism is accepting of all faiths as we believe it is one god with many names.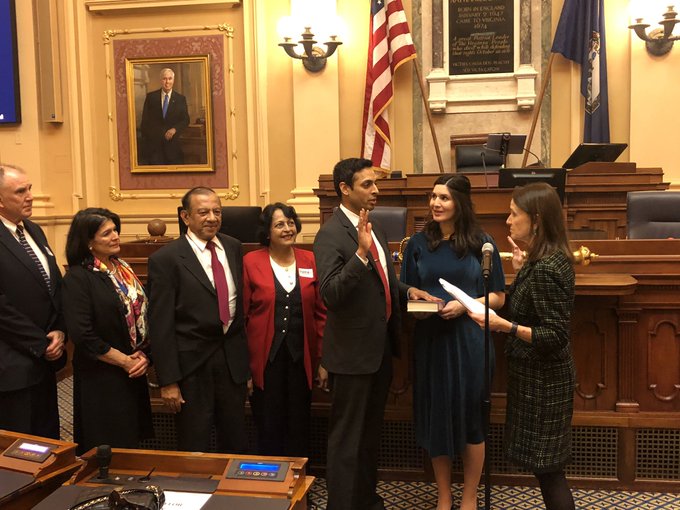 Subramanyam is married to Miranda Peña Subramanyam, who works for a government contractor and volunteers in her free time at the Loudoun Abused Women's Shelter. They were married in Sterling, Virginia, where they currently reside.
---
About Bhagavad Gita
The Bhagavad Gita (Sanskrit: भगवद् गीता, ) often referred to as the Gita, is a 700-verse Sanskrit scripture that is part of the Hindu epic Mahabharata.  Popular media in India including bollywood films have long depicted court scenes where witnesses take an oath using Bhagavad Gita (link).
Subramanyam's swearing in with a Bhagavad Gita follows a trend. With the increasing diversity in the West, many politicians of Indian descent are taking to the Gita during their swearing in:
And the hawks are watching for those who aren't following this new norm: UK MP under fire for not taking oath on Gita – A British Punjabi Hindu MP has come under fire for not taking an oath of allegiance to the Crown on the Bhagavat Gita.