The story sounds like that from a bygone colonial era – an adventurous white missionary goes into the wilderness and is killed by tribal using Spears, Bows and Arrows. This story seems to have been replayed in Circa 2018 in the isolated Indian islands of Andaman and Nicobar. The news is making headlines in India and in the digital world.
The local police are investigating the apparent killing of an American by an isolated island tribe off the coast of India.  A statement issued by the police for the Andaman and Nicobar islands late Wednesday said the police and India's coast guard carried out an aerial survey of Northern Sentinel Island on Tuesday.
The tribals – Sentinelese people – are highly resistant to outsiders and the government tightly restricts visits to the island. It is unclear how or when the American, John Allen Chau received permission from local authorities to visit the island.
The Police claimed that fishermen who helped Mr Chau visit the island saw a dead person being buried at the shore. The dead person appeared to be Chau. The fishermen then returned to Port Blair, the capital of the islands, and reported what happened.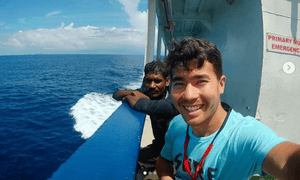 John Allen Chau, 27, is believed to have paid fishermen to ferry him to North Sentinel Island, home to a 30,000-year-old tribe known to aggressively repel outsiders.
"The fishermen in the dinghies tried to warn him it's a risky thing," Denis Giles, an activist for the rights of tribal groups and a journalist on the Andaman and Nicobar Islands was quoted saying. He said Chau, who some Christian groups have claimed was a missionary, had been trying to find ways to reach North Sentinel Island and finally succeeded on Saturday, taking a dinghy with the fishermen, then completing the rest of the journey by kayak.
---
Media accounts of the story
American killed by isolated tribe on island in Andamans – The Guardian
Police go to island to look into US man's death – Washington Post
Isolated Tribe Kills American With Bow and Arrow on Remote Indian Island